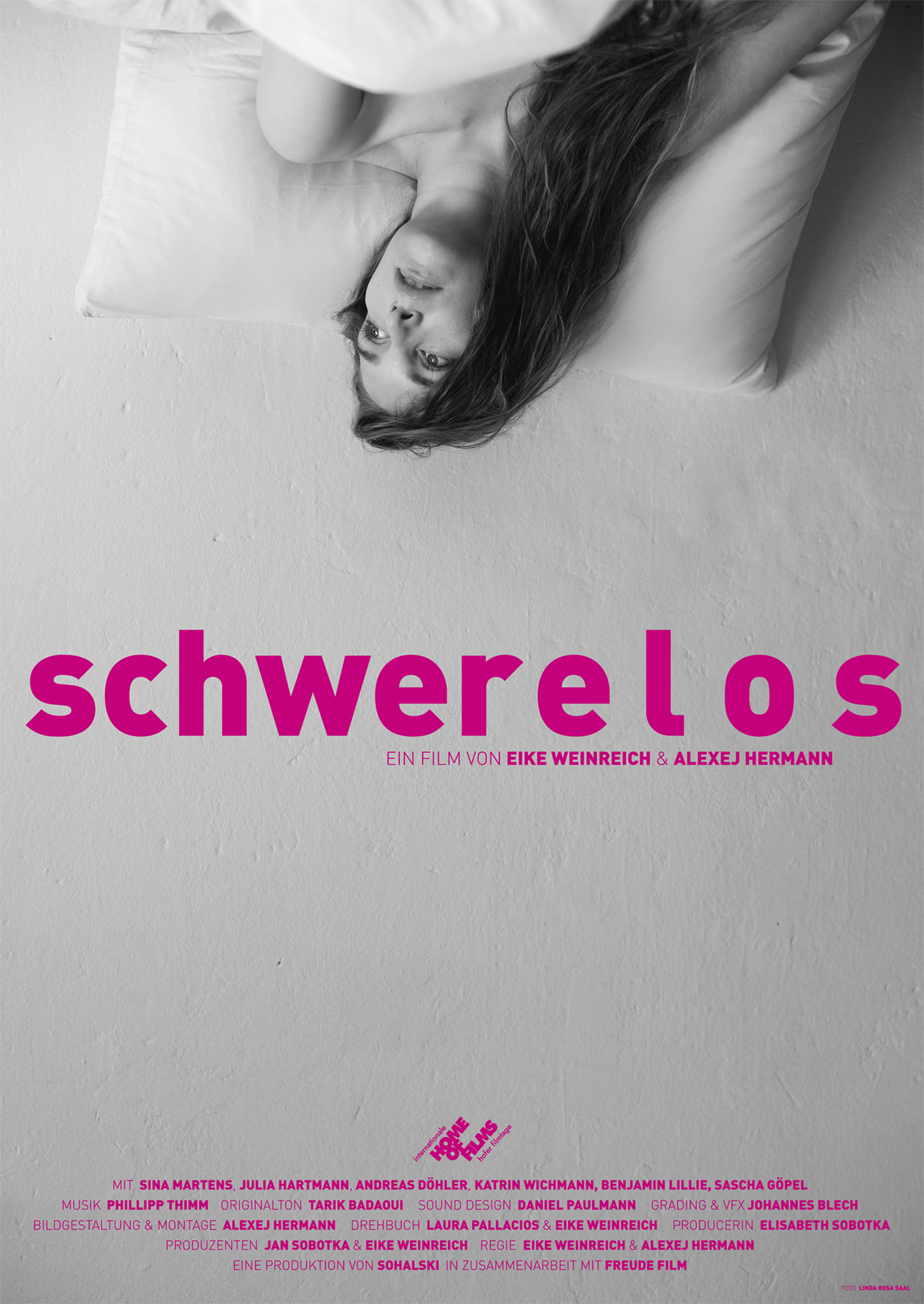 Schwere l o s | Weightl e s s

Spielfilm | 2021 | 81 min | 4K DCI 2.35:1
Directed by Alexej Hermann & Eike Weinreich
Produced by Jan Sobotka & Eike Weinreich
a Sohalski production in cooperation with Freude Film
Festivals: 55. Internationale Hofer Filmtage | 18. ACHTUNG BERLIN Filmfestival
Synopsis
Maria (33) ist jung, attraktiv und selbstbestimmt, ihr Leben gestaltet sie ganz nach ihren Vorstellungen. Ausgiebiges Feiern, Drogen und zahlreiche Liebschaften sind für sie selbstverständlich. Andere Frauen ihrer Generation, die Thirtysomethings, haben inzwischen Ernst gemacht, sich gebunden und sogar Kinder in die Welt gesetzt. Indem Maria weiter an ihren Freiheiten festhält, verliert sie langsam die Verbindung zu ihren engsten Freunden, stößt Möchtegern-Lover vor den Kopf. Sie muss schließlich erkennen, dass ihre Promiskuität, ihre Neigung zum Rausch und zum Nachtleben nichts ausrichten kann gegen die innere Leere, die in ihr heranzuwachsen beginnt. Nicht, weil sie sich dem ausgelassenen Lebensgefühl hingibt, sondern weil sie davor zurückscheut Verantwortung zu übernehmen.
Maria (33) is a young, attractive and independent woman, who shapes her life to suit her preferences. Extensive partying, drugs and numerous love affairs are natural for her. Other women of her generation, the thirtysomethings, have taken their gloves off and bound themselves. By holding on to her lifestyle, Maria begins to lose the connection to her closest friends. As a mirror of their own lives Maria becomes an imposition, that no one wants to confront themselves with. Above all it is Marias promiscuity, which makes herself vulnerable. But at large all the liberties, Maria claims for herself, stand for her unwillingness to take responsibility.
x
Paolos Glück | Paolo's Happiness

Stop Motion Animation | 2022 | 10 min | 2K DCI 1.85:1 | Germany, Switzerland, Czech Republic
Written & Directed by Thorsten Drößler & Manuel Schroeder
Director of Photography Jaroslav Fišer & Jan Sobotka
Produced by FilmVermoegen GmbH, Grit Wißkirchen, in co production with Dschoint Ventschr AG, Sereina Gabathuler, MAUR Film Ltd., Martin Vandas, and in cooperation with Sohalski Creative Network, Jan Sobotka, and Kappa Agency
Supported by the MDM, BKM, Kunststiftung Sachsen-Anhalt, Czech Film Fund a.o.
Paolo Piangino ist ein unscheinbarer kleiner glücklicher Mann, der mit seiner Katze zusammen lebt und sehr gern weint. Denn seine Tränen sind sein Glück. Wenn er traurig ist, trösten ihn seine Tränen, wenn er glücklich ist, machen ihn seine Tränen noch fröhlicher. Fasziniert sehen die Leute in der Stadt eines Tages zu, wie aus Paolos Tränen rote Blumen wachsen. Diese Tränen machen Paolo berühmt. Die Menschen sind begeistert – alle wollen ihn zu sich einladen, alle erhoffen sich ein paar Tränen von ihm.
Doch Paolo wird der Rummel bald zu viel. Heimlich, still und leise macht er sich davon. Zurück bleiben ein paar Blumen und viele Menschen in der kleinen Stadt, die vor Traurigkeit bitterlich zu weinen beginnen. Wer weiß, vielleicht werden aus ihren Tränen eines Tages echte Glückstränen?
Paolo Piangino is a quiet adult man who lives alone with his cat and loves to cry, because his tears are his happiness. When he feels sad, tears comfort him, when he is happy, his tears give him even more joy. One day people in his town are amazed to find that flowers grow out of Paolo's tears and thanks to his tears Paolo becomes famous. All his compatriots from the town are excited, they all invite him to visit, hoping for some lucky tears from him.
But Paolo is soon fed up with all that hustle and bustle. Secretely he steals away and all that is left after him are several flowers. The people in the town, saddened by his departure, cry bitter tears for him. Who knows, maybe one day even their tears will grow into flowers.
x
Mein Opa Wolfgang Winkler
Dokumentation | MDR 2021 | 45 min & 29 min | HD
Regie: Conrad Winkler
Autor:innen: Conrad Winkler, Elisabeth Sobotka
Produzent: Jan Sobotka
Produktion: Sohalski im Auftrag des MDR und der ARD Mediathek
Mit: Jaecki Schwarz, Katja Danowski, Petra Kelling, Horst Ruprecht, Reinhard Straube, Alexander Winkler, Sabine Winkler u.a.
Synopsis
Die TV-Serien Polizeiruf 110 und Rentnercops machten den Schauspieler Wolfgang Winkler bundesweit bekannt. Über mehrere Jahre hinweg verkörperte er den bodenständigen und humorvollen Kommissar. Seine große Leidenschaft waren die vielfältigen Rollen am Theater. Zu DDR-Zeiten erarbeitete er sich in Halle den Ruf als Star der Provinz, dem der Schritt auf die großen Bühnen in Berlin verwehrt blieb. Privat erlebte er viele Höhen und Tiefen. Abseits der oft erzählten Geschichten will dieser Film eine persönliche Spurensuche sein – die Reise des Enkels in die Geschichte des Großvaters.
The actor Wolfgang Winkler was known throughout Germany for his parts in TV series like Polizeiruf 110 and Rentnercops. Over many years he impersonated the down-to-earth and humorous inspector. His passion were the various theatre roles he played. During GDR times he was perceived as star of the province, who never succeeded to play on the famous stages in Berlin. His private life was characterized by many ups and downs. This film is a personal journey of a grandson into the history of his grandfather.
x
Mensch René
Fotofilm | 10 min | 4K 16:9 | Film File
In Post Production
Directed by Jan Sobotka
Photographs by Jan Sobotka
René ist 50 Jahre alt und hat einen kleinen Töpferladen im Halleschen Paulusviertel. Alle aus der Straße kennen den charismatischen Mann, der gerne Pakete für die Nachbarn annimmt und immer ein Bonbon für die Kinder hat. René möchte den Menschen Freude bereiten – dabei sind Töpfern und Malen für ihn vor allem Wege mit den Widrigkeiten umzugehen, mit denen er in seinem Leben zu kämpfen hat.
René (50) is the owner of a small pottery shop in Halle. Everybody from the neighborhood knows the charismatic man, who accepts packages for them and always has sweets to offer to the children passing by. By doing what he loves, René wants to generate joy – at the same time making pottery and painting is his way of dealing with adversities in his life.
x
Nach Auschwitz | After Auschwitz
Documentary | 2014 | 20 min | DCP,  film file | Stereo | German with Englisch subtitles | FSK 0
A Film by Jan Sobotka
World Premiere: Kurzfilmfestival Hamburg 2014
Film distribution by Kurzfilmagentur Hamburg
Awards: German Short Film Award 2014 | Prädikat Besonders wertvoll | Special Mention at achtung berlin – New Berlin Film Award 2015
Festivals: Kurzfilmfestival Hamburg | Max-Ophüls-Preis Saarbrücken | Berlinale EFM | Filmfest Weiterstadt | Flensburger Kurzfilmtage | Achtung Berlin – New Berlin Film Award | Kurzfilmfestival Landshut | nonfiktionale Bad Aibling | Sebastopol Documentary Film Festival (USA)|  Kinotournee Deutscher Kurzfilmpreis | GREENER ON THE OTHER SIDE International Video Art Festival, Helsinki (FI) | VAFT Video Art Festival Turku (FI) u.a.
Synopsis
Jährlich reisen 1,5 Millionen Menschen nach Auschwitz, um das ehemalige nationalsozialistische Konzentrations- und Vernichtungslager zu besuchen.
Doch es ist keine Selbstverständlichkeit, den historischen Ort authentisch zu erleben. Behutsam müssen hunderttausende Zeugnisse einzeln dem Verfall entzogen werden.
Die Beobachtung der konservatorischen Arbeiten macht die zeitliche Begrenztheit des Materials bewusst und bietet Gelegenheit, über Inhalt und Zukunft des kulturellen Gedächtnisses nach Auschwitz nachzudenken.
Each year more than 1.5 million people are travelling to Auschwitz to visit the former concentration and extermination camp of the Nazis.
But it is not self-evident to experience the place authentically – for future generations more than one hundred thousand historical objects have to be preserved carefully piece by piece.
The observation of the conservation work depicts the ephemeral nature of the objects material and offers an opportunity to reflect on the content and the future of the cultural memory after Auschwitz.
x
x
Die Kinder der Utopie | Children of Utopia

Documentary | 2018 | 80 min | HD
Regie: Hubertus Siegert
Herstellungsleiter: Jan Sobotka
Produktion: S.U.M.O Film Berlin
x
Alle
Dokumentarfilm
Spielfilm
Animationsfilm
TV